Community is an important value and one worth celebrating, irrespective of its business application. iVentiv has always provided you with a forum in which a real community can grow and genuine connections can be made.
For this blog, we spoke to one of iVentiv's most long-standing friends: Simon Brown, Chief Learning officer at Novartis. Simon has invited the iVentiv community to the Novartis HQ on several occasions to share ideas, learn from one another, and unite around common causes.Community goes well beyond L&D, however, and on this occasion, we wanted to connect with Simon on his commitment to another cause: helping those suffering from Alzheimer's.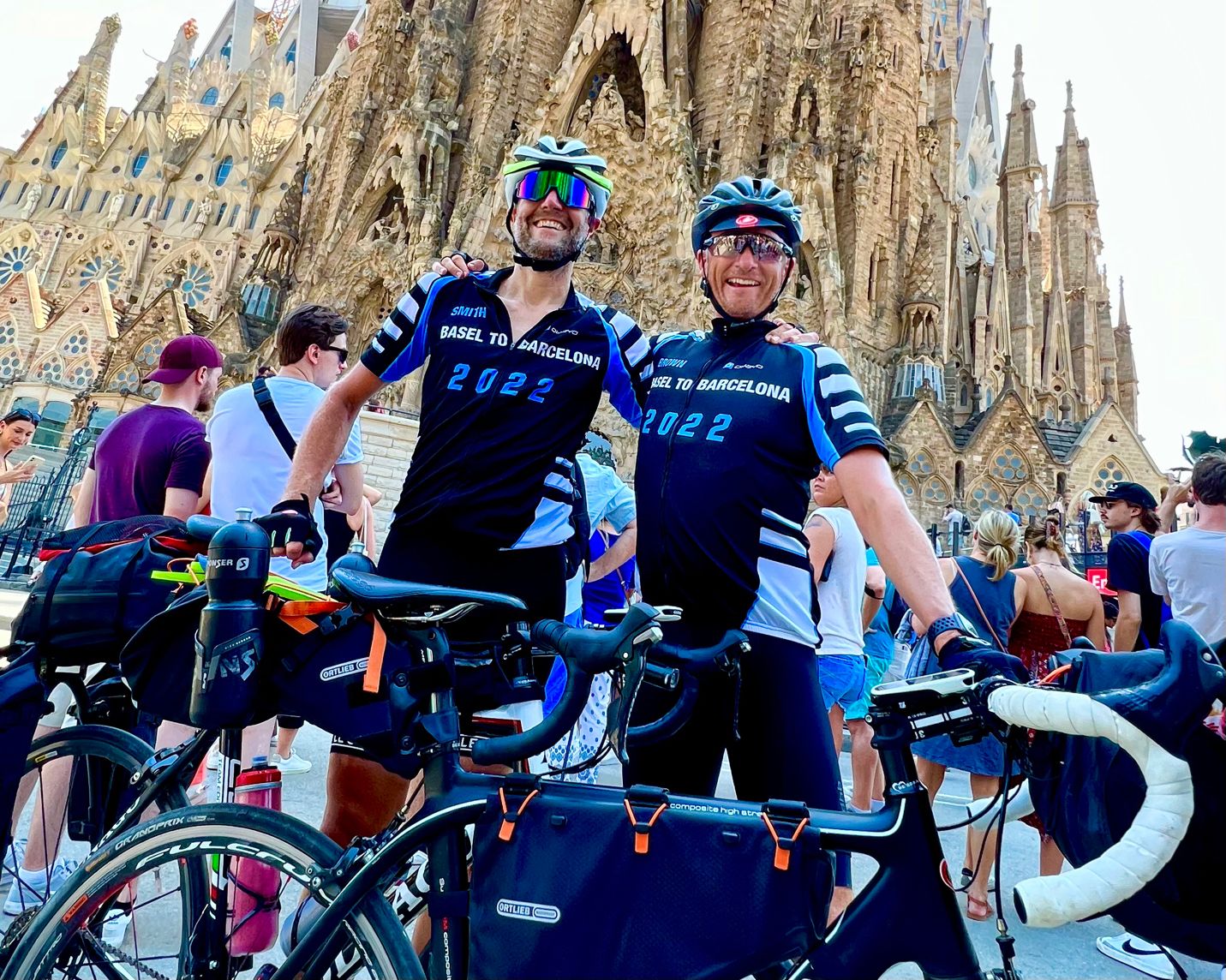 Novartis, Community, and wellbeing
Novartis have linked skills-based volunteering work with development, enabling them to work with NGOs and charities in a far more value creating way. According to their workforce, "purpose-driven engagement with the wider community gives them a greater sense of wellbeing and the satisfaction of being able to play their part in society". Volunteering within the organisation has since gone through a natural evolution of the employee's desire to make a difference to society.
In July of 2022, Simon Brown (CLO Novartis), and friend Colin Smith (Partner - Transaction Services, Energy Utilities & Infrastructure, PwC) cycled 1,221km across Europe, from Basel to Barcelona to raise money for all those suffering from Alzheimer's.
Tackling Alzheimer's
The Alzheimer's Society defines the disease as "a physical illness which damages a person's brain". It is the most common cause of dementia and is due to a build-up of substances in the brain (amyloid and tau) that form structures called "plaques and tangles" which make it difficult for the brain to work properly. This type of brain damage leads to difficulties with thinking and memory, and eventually develops into what we know as dementia.
Over 55 million people currently live with dementia and over 10 million new cases are diagnosed every year. Somewhere in the world, someone develops dementia every 3 seconds.
The Alzheimer's Society funds a number of research projects that all aim to create a cure, or in the very least, alleviate symptoms of Alzheimer's and dementia. There is currently no treatment for any type of dementia that stops or slows down the progression of disease. But, research into such things as understanding how to clear toxic amyloid proteins from the brain, to psychological interventions to help tackle its risk factors are taking us ever closer to combatting the disease.
Simon and Colin's Ride
Both Simon and his cycling partner Colin have been impacted by Alzheimer's and dementia and so they undertook their journey to aid research that will help to combat the disease in the future. Following Simon's bike crash in 2020 and his further operation to remove the resulting metal plate in September 2021, he felt the need to set a goal to get fit again.
From Basel to Barcelona, the 758mile cycle was a whirlwind of adventure through country side, rolling hills, and scenes of staggering beauty. Although incredibly saddle sore, Simon and Colin didn't stop when they'd hit their goal; after reaching Gaudi's majestic Sagrada Familia in Barcelona, both riders caught the ferry to Palma and then cycled across Majorca to Port de Soller to meet their families for a well-earned holiday.
Between them, Simon and Colin raised almost £13,000 – money that will be an incredible investment into:
Support for families impacted by Alzheimer's and dementia
Research into its treatment
Societal awareness
Learning from Community Work: Lessons from Training and Riding
The cycle offered key moments of reflection for both riders, and cemented many of their core beliefs whilst simultaneously creating new ones. Reflecting on the ride, Simon thought about the power of curiosity in making thoughts reality. This bike ride began with just one question: "I wonder if we could cycle across Europe to raise money for charity?".
It ended with a resounding YES.
Both riders also reflected on the importance of purpose. Goal setting creates focus without ambiguity but, as Simon put it, a "#higherpurpose soon became clear, the far stronger motivator was raising money for #mentalhealth (Alzheimer's Society) and the trip was the means to that end."
Setting small, achievable goals was a key part of the process too. By breaking his six-month training plan down into manageable chunks, Simon was able to progress with a hyper focus that made those end goals more tangible.
Simon also thought a lot about the reward and recognition of achievement, about being kind to yourself and rewarding even 'small' achievements to propel you toward success.
Teamwork and healthy support systems, too, were important; they help you to thrive. "this would be so much harder without Colin Smith," Simon wrote, "as my friend and cycle partner […] It's better together!"
Constructive feedback was also a key motivator and energy provider, he said. "Hearing the messages of support […] has created energy when things were hard […] Feedback energises!"
Reframing situations to replace the negative with the positive: On their final day of cycling, considered the hardest of them all, Simon mentioned that reframing that thought and changing its context helped. Compared to their usual 200km days, riding "only 110km" suddenly seemed like a breeze. As Simon said: "changing the context can frame everything differently!"
Finally, Simon saw the experience as a way to challenge and overcome labels. Overcoming labels given to us either by ourselves or our peers, is vital for progress – do we have to be super 'sporty' or super 'fit' to take part in challenges like this one? No.
Community Causes
By celebrating the community causes that you support beyond iVentiv, we want to shine a light on our collective belief in collaboration and mutual support, a core value that we know drives so may of you in the iVentiv community. Congratulations to Simon and Colin on such a huge achievement!
Visit Alzheimer's Society for more information on the disease and vital research projects helping towards finding a cure.
Simon is Chief Learning Officer at Novartis and international best-selling author of the Amazon #1 hot new release 'The Curious Advantage'.
Colin Smith is Transactions Services, Energy, Utilities Mining & Infrastructure Leader, at PwC UK and leads the Infrastructure Deals Team globally and is responsible for Energy, Utilities, Mining and Infrastructure Transactions Practice in the UK.