You've got the next big innovation. Maybe some new tech. You've got a logo, a website, and a sales team raring to go. 
You're probably thinking about sending them out to some events. It's a great idea.
Events, conferences, expos, seminars. Whatever you want to call them. Attending is one of the best ways to meet decision-makers in big companies, whether that's Chief Learning Officers, Heads of Talent, or Executive Development leaders.
But there are a lot of events out there, and making the most of them is tough.
So what can you do?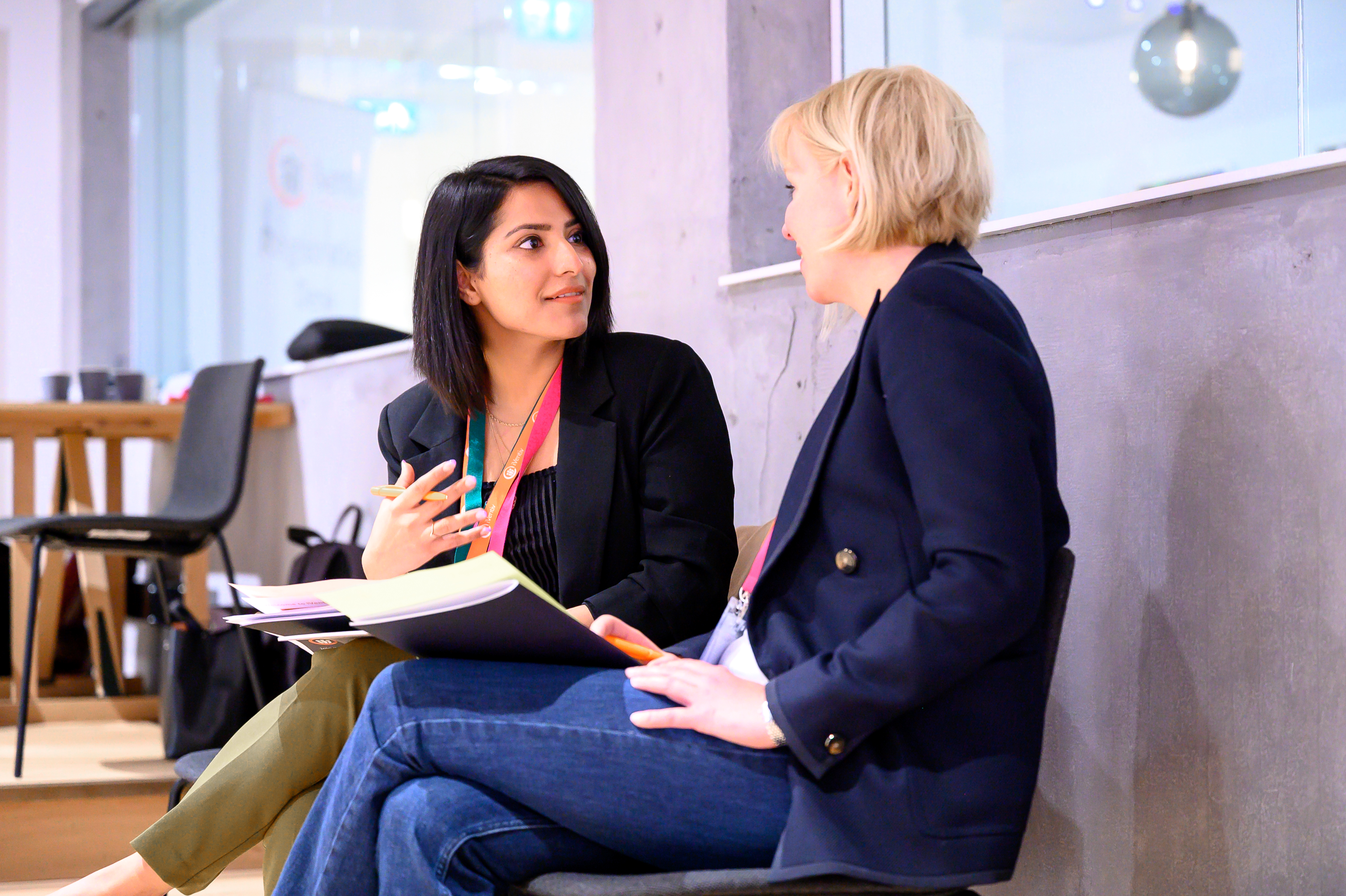 Understand Your Objective
First, understand what you want to achieve by attending. Yes, you want to grow your business, but how?
Are you looking to get as many people as possible, whatever their seniority, to visit your stand? Or talk to specialists and other experts like you? Are you trying to build your community? Expand into a new territory? Is it about meeting decision-makers? 
Whatever your goal, you need to be clear about it before you start booking your tickets. Otherwise, you could end up wasting your budget on the wrong event.
Choose the Right event
To deliver ROI, you need to pick the right event in the right location with the right people.
If you're looking to get as many eyes as possible on your product, then maybe one of the big expos is for you. But sometimes those events are full of rivals, or junior managers, rather than decision-makers.
Or, if you want to establish your business in a specific space, you might prefer a more specialist conference. An event specifically themed around your type of software.
Maybe you're looking to boost your sales pipeline by networking with decision-makers. In that case, a big expo might not be for you. Look for something focused on senior leaders.
The point is, choose the event that delivers on your business outcomes. It's not about how many leaflets you hand out, it's about getting in front of the right people.
Prepare and Review the Agenda
Now you've chosen your conference, it's time to prep. Before the event, do your research into who is attending. What are they working on? What challenges does their company face? What mutual friends and connections do you have?
The good event companies will support you with this. They'll send you some information ahead of time and ask their attendees about their own objectives.
But brush up on your own achievements as well. Who have you helped? What best practice have you seen? Just because they're C-Suite, doesn't mean they know it all. You have a breadth of knowledge that goes beyond one company. Share it. 
Speak to the Organiser
Before and during the event, talk to the event organiser. They'll be able to tell you where the best conversations happen. They can talk to you about who's attending and who's been before.
The best organisers will help you get the most out of their format. Treasure those organisers. They'll introduce you, even tell you who's expressed an interest in your products. It's their community, after all.
It's Not All About the Meetings - Talk to as Many People as Possible
It's easy to look at an attendee list and feel your eyes pop out. Maybe one or two attendees are people you've been wanting to network with for years. Or maybe there's one company that stands out.
But don't forget the rest of the room. There are a lot of companies out there and a lot of smart people.
Even if your event organiser is one of the good ones who gets you in formal meetings, don't let it end there. Speak to everyone, or at least as many as you can. You never know who might be crying out for your expertise.
Don't Just Talk to Your Colleagues
If you're travelling with a colleague or two, that's great! Twice as many conversations to have, maybe more. So don't waste too many of those conversations talking to each other.
Talk to different people. For workshops and group work, you'll get to know a lot more if you split up. Your time is limited, so make the most of it. More than that, networking and meeting new people is fun. Two days will feel like 20-minutes if you throw yourself in. 
Listen and Learn
It can be hard to hear, but it's not all about your product.
Yes, the idea is very clever, and people worked very hard on it. Your job is to sell, but you can do that more effectively if you take your time.
So don't oversell. Get to know the people you meet and find out about their businesses. Look for long-term connections. If you're speaking to the C-suite, there's a lot to learn just by listening, and a lot of kudos to gain just by being involved. You might even find out about brand new problems. More than selling your current product, an event could help shape the next one.
Slow burn, big gains.
Be Confident and Open
But what do you say about yourself if you're not selling? You want to focus on them, but eventually you have to say something. 
The key is to be confident in what you know. You spend a lot of your time talking to people about their challenges and helping them find solutions. Share your stories, your insights. 
Even better, just tell the person you're speaking to that they're not alone. You might have heard 50 CLOs say the same thing before, but they might think they're the only one. That little reassurance could go a long way.
Follow up Effectively
Connect on LinkedIn, send an e-mail. But make it a real follow up. What did you talk to them about? What articles did you recommend? Don't just send a link with your website and hope it becomes a sale. Offer them real value.
Be a Regular Face
The best event companies create a genuine sense of community around their events. People go to conferences to network with other people. If they're going back to see old friends, they're much more likely to prioritise it.
With that in mind, go back next year. Meet the group again, catch up with friends. When you meet new, fresh faces, you can be the one introducing them to the group. 
Ultimately, it really is about forming relationships. At iVentiv, we understand that there's more value for you and decision-makers when you can form real connections. By joining a select group of senior leaders at big companies, you get real value.
Find out more about iVentiv's events for senior executives and join the conversation as an event partner. Over two days, you'll take part in workshops and interactive discussions, plus 1-2-1 networking meetings, with support and guidance to help you make the most of your time. Book a consultation to find out more.